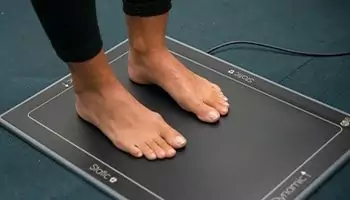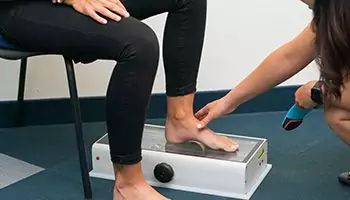 Custom Orthotics At Emkiro
Orthotics are custom-made shoe or heel inserts that can help treat foot, leg, or back conditions. They can correct foot deformities, improve the function of the foot or ankle, provide support for the ankle, and reduce the risks of injuries, among other things.
At Emkiro, we use two advanced technologies – ScanCast 3D and GainScan – to safely and securely determine the best configuration for your custom orthotics. These technologies allow our professionals to get a high-detail view of your feet, which helps them recommend the best inserts for your particular problem.
You can wear the custom-made inserts with athletic footwear, heels and dress shoes, diabetic shoes, and even for skates or golf shoes.
Most insurance plans cover custom orthotics, so they can be a convenient and accessible treatment for your foot, leg, or back problems. Please note: Custom orthotics are not able to be direct billed to insurance. Receipts are provided to assist with reimbursement from your insurance provider if you have coverage. Please read the FAQ at the bottom of the page for more information.
Your First visit to Emkiro Clinic
At your first visit to Emkiro's clinic, our orthotics experts will ask several questions and evaluate your overall posture and foot biomechanics to understand your specific needs.
Your health history can be very helpful in reaching a correct diagnosis, so our team may ask when you first started noticing the symptoms, what makes them worse, and previous treatments you might have tried.

Our team will then proceed with a physical examination of your feet, assessing any deformities and/or painful areas. Our health experts may ask you to walk and perform other activities to determine how your feet and ankles position themselves during physical exercises.
Your biomechanical examination may include tests with the ScanCast 3D and GainScan technologies. These technologies enable our team to see how you distribute your weight when you stand and walk, helping them reach a diagnosis.
If orthotics could benefit you, our team will explain your orthotic options and help you make a decision based on your lifestyle, specific needs, intended usage, and so on.

Custom Orthotics Manufacturing
Our team will send your foot imprints to the lab, along with your feet scans and our team's specifications. The lab technicians analyze and interpret the data, select the right materials, and customize the orthotics for each patient.
Unlike store-bought gel or comfort fabric insoles that act as soft padding for the feet, our custom-made orthotics are tailored to meet the patient's needs. They match our team's exact specifications, and they include specially placed padding, heel or arch support where medically necessary.
All the orthotics created in our lab pass rigorous quality control testing before you pick them up.
Our Custom Orthotics team usually takes 5 – 7 business days to process and manufacture an order. You will get a call as soon as your orthotics are ready.

Follow-up Visit
You will receive your orthotics during your follow-up visit. Our team will check to confirm that your orthotics have the appropriate fit and they will make any final modifications that may be required to tailor the orthotics to your shoes.
You will also receive a report that includes the results of the biomechanical tests you may have done, a proof of manufacturing including the details on the materials used to create your orthotics, and clinical indications for your orthotics.
Custom Orthotics Pricing
Biomechanical Examination
You may be covered for Custom Orthotics
Most benefits plans include coverage for all or most of your custom orthotics costs. Ask us about your coverage today. While direct billing is not available for custom orthotics, receipts are provided for reimbursement purposes wherever applicable.
Make An Appointment
What Are Custom Orthotics?
Custom orthotics are shoe or heel inserts that are specially made for your feet, following a doctor's prescription. A doctor may prescribe you orthotics to help you recover from foot, leg, or back problems.
Orthotics are medical devices specially designed to correct specific musculoskeletal disproportions of your feet. They have a custom-made plastic core body that's modeled to redistribute the pressure while you're standing or moving.
By redistributing the pressure on your feet, orthotics promote proper bone, arch, and joint alignment. Orthotics are carefully designed to suit your bodyweight and gait, and some are specially designed to perform certain tasks, such as fitting inside roller blades or golf shoes.
Custom orthotics are better than the off-the-shelf heel pads or shoe inserts you can buy at athletics stores because they're customized to your feet. They're tailored to take the pressure off the painful areas in your feet, correct your walk, protect your joints, or to help relieve back pain.
Orthotics can be very helpful for those who have flat feet, fallen arches, plantar fasciitis, bunions, or who suffer from lower back pain. For example, people who have very flat feet may roll their feet inward or downward when walking. Wearing orthotics can provide additional arch support for people with flat feet in order to prevent this from happening.
After a thorough physical examination, our doctors may prescribe orthotics that provide additional support or cushioning in the heels or balls of the feet to help you redistribute your weight and deal with pain and discomfort. Long-time use of orthotics may improve your walk and posture.
Doctors often recommend orthotics in conjunction with supportive shoes, nonsteroidal anti-inflammatory drugs (NSAIDs), and/or physical therapy exercises to reduce pain and inflammation in the feet, joints, or legs. Orthotics can help you avoid invasive treatments such as surgery.
Do I Need Custom Orthotics?
Orthotics may help if you suffer from plantar fasciitis, bunions, muscle imbalances, joint problems, or other painful conditions in your feet. Custom orthotics can help reduce foot pain and discomfort, and they can also help relieve knee, hip, or back pain.
Your doctor may prescribe custom orthotics to help prevent or halt the formation or progression of bunions, to aid in the recovery from progressive degenerative foot conditions, or to heal tissue damage.
Orthotics can also promote positive biomechanical changes in your feet and legs, and they may also improve your posture over time. These custom-made medical devices may produce immediate beneficial results or they may reduce pain and help improve your health over time.
Custom orthotics can help with multiple medical conditions affecting the feet, ankles, legs, and back, including:
Foot Pain
There are multiple medical conditions that can lead to foot pain. Foot pain commonly occurs in the arch, heel, or the toe joints and may be associated with conditions like plantar fasciitis, metatarsalgia, or bunions.
Plantar Fasciitis
Plantar fasciitis is a common cause of heel pain. This is a medical condition that involves the inflammation of the thick band of tissue (plantar fascia) that runs across the sole of your foot, from your heel bone to your toes. Plantar fasciitis is more common in runners, those who are overweight, and people who wear shoes that offer inadequate support.
This condition generally causes stabbing pain that may be more frequent when you take your first steps in the morning. The pain may decrease as you move throughout the day, but it may return when you stand after sitting for a while, or after long periods of standing.
People who practice activities that place a lot of stress on their heels, such as long-distance running or ballet dancing, and those who spend a lot of time on their feet, such as restaurant servers or factory workers have a high risk of developing plantar fasciitis.
Those who have structural foot problems, such as very flat feet or very high arches, also have a high risk of developing this condition.
Even though its causes can vary, plantar fasciitis can quickly become problematic because it causes pain and inflammation.
Custom-made orthotics can help with plantar fasciitis because they can correct the musculoskeletal problems that led to this condition, such as over-pronation or very flat feet, and they can distribute your weight across your feet, protecting the hurting area.
Metatarsalgia
Metatarsalgia is a common condition which leads to a painful sensation located in the ball of your foot. This condition has multiple causes, but it can usually be linked to physical activities such as running and jumping, foot deformities, or inadequate shoes.
Even though it's not a serious condition, metatarsalgia can sometimes be debilitating because it prohibits you from standing or walking. Fortunately, metatarsalgia can usually be treated with simple at-home remedies, such as getting plenty of rest, taking NSAIDs or putting ice on the soles of your feet.
Metatarsalgia causes aching, sharp, or burning pain that usually affects the ball of your foot. The pain may worsen when you stand or walk, especially if you walk on hard surfaces. The pain may lessen when you rest.
Not all foot pain can classify as metatarsalgia. Sometimes your feet might ache after a long day at work or after a long workout/running session. However, you should consult a physician if the pain lasts more than a few days.
Custom orthotics may help people who regularly suffer from metatarsalgia by relieving foot pain and preventing recurrence. They help distribute the weight across the entire surface of your foot, protecting the metatarsals from stress and supporting the arch of your foot.
Bunions
A bunion is a bony bump that can appear at the base of your big toe, next to the joint. Bunions appear when some of the bones in the foot move out of place, pulling your big toe toward the smaller ones and forcing the base of the joint to stick out.
Bunions can also appear as a result of foot deformities such as very flat feet, medical conditions, or muscle imbalances. Injuries that affect your gait or changes in your hips, knees, or ankle joints can also lead to bunions.
Smaller bunions, called bunionettes, can develop on the first joint of your little toe. Bunionettes have similar causes to bunions, but their appearance can usually be traced back to inadequate or poorly fitting shoes.
Bunions can be extremely painful and they can affect the way you stand and walk.
Custom orthotics can be beneficial for those who suffer from bunions because they can redistribute the pressure across your foot and protect the sensitive area. They can also slow or halt the progression of a bunion and relieve the pain it produces.
Other Types Of Pain
Custom orthotics are medical devices that may help with different conditions that affect the legs, joints, or back.
Arthritis
Osteoarthritis and rheumatoid arthritis can cause pain and discomfort in the feet and joints. The pain can sometimes be so intense that people change their gait in order to protect the painful areas, which in turn may lead to painful sensations in the legs, joints, or back.
Orthotics may help relieve the pain caused by osteoarthritis and rheumatoid arthritis, thus correcting the sufferer's posture problems.
Bursitis
Bursitis is an inflammation of the fluid-filled sacs that lubricate the joints. Bursitis pain that affects the heels, toes, and ankles can be treated with the help of orthotics. Orthotics can reduce bursitis discomfort by relieving the pressure off the painful area.
Diabetes
People suffering from diabetes can lose sensation in their feet. This condition is called diabetic neuropathy, and it can often lead to foot ulcers. Orthotics can help with diabetic neuropathy by reducing the stress and pressure on the feet.
Injuries
People who experienced traumatic injuries of their feet and legs may require additional support during their recovery. Custom-made orthotics can aid the healing process.
Get Better With Emkiro's Custom-Made Orthotics
Book an Orthotics Appointment with a Chiropodist or Chiropractor today.
Make An Appointment

Why You Should Choose Emkiro
Emkiro is one of the leading custom orthotics clinics in Toronto. With over 10 years of experience and hundreds of satisfied patients, our team is one of the best in the country.
Emkiro's Custom Orthotics team uses the latest technologies to scan your feet and accurately determine how to help you overcome pain and regain your mobility.
We strive to make our services accessible to everyone, which is why we bill insurance. Most of our custom orthotics are included in health insurance plans, so your provider may cover your expenses.
You don't have to be in pain. Check in with one of our specialists and see if custom orthotics may be right for you. Call us with any questions.
Call Us: (416) 977-7474
Custom Orthotics FAQs
How Do Custom Prescription Orthotics Work?
Our prescription orthotics look like insoles, but are biomechanical medical appliances that are custom-made to correct your specific foot imbalance. Emkiro Custom Orthotics have the advantage of having been made from precise digital imprints of your feet so that they can give you custom support and comfort.
How are Emkiro Custom Orthotics different from off-the-shelf insoles?
Most store-bought gel and comfort fabric insoles provide only soft padding under the feet, but do not address the biomechanical and support structure of the feet, and are usually very short-lived. The customization process is what makes Emkiro Custom Orthotics true custom medical appliances for maximum support and function. Emkiro Custom Orthotics are custom-milled to the patient's exact specifications, and modified to the patients needs (including specially placed padding and extra heel or arch support where medically necessary), and before they are given to the patient, they must pass rigorous quality control testing.
Can Custom Orthotics Help My Lower Back Pain?
Yes, Emkiro Custom Orthotics can help. If foot arches have dropped, or the biomechanics of the feet are altered, it can cause a change in how one walks and can put pressure on the ankles, knees and hips resulting in lower back pain.
How Long Will It Take to Make the Custom Orthotics?
Generally, the manufacturing and processing time for Emkiro Custom Orthotics takes 5 – 7 business days between order date and pickup date. Patients will get a call as soon as they are ready.
How Long Will a Pair of Emkiro Custom Orthotics Last?
With every-day use Emkiro Custom Orthotics should last at least one year. Many patients do have multiple pairs, which extends the life of the Custom Orthotics, and they can last between 2 – 5 years.
How Long Does It Take to Get Used to Emkiro Custom Orthotics?
Generally, it is recommended that the patient allow a two-week trial period to get accustomed to the Custom Orthotics, however, most patients are able to experience comfort immediately.
Is There a Warranty on Emkiro Custom Orthotics?
Yes, there is a 90-day warranty for modifications. If any changes are needed, we will be happy to modify them and re-fit the custom orthotics.
What Information Should I Bring to My Custom Orthotics Appointment?
For efficiency, if you have insurance coverage for Custom Orthotics, please bring the following information to your appointment to ensure reimbursement:
Amount of insurance coverage
Casting method required
What kind of practitioner is required for the assessment, casting and dispensing (eg. Chiropractor/podiatrist/chiropodist) – Emkiro Custom Orthotics are provided by Doctors of Chiropractic or Emkiro's Chiropodist
Documentation required (eg. Referral note from medical doctor, chiropractor, or chiropodist)