Get expert support on nutrition, mental, and physical health with Dr. Lakhoo, MD, CCFP, Board Certified Lifestyle Medicine Physician.
Learn how to manage stress, sleep better, eat healthier, and more. Our qualified health professionals use an evidence-based lifestyle therapeutic approach to prevent, treat, and even reverse chronic disease.
What Lifestyle Medicine Helps With
Emkiro Lifestyle Medicine is right for you if you struggle with any of the following :
Obesity and excess weight
Heart disease / high cholesterol / hypertension
Inflammatory conditions such as rhuematoid arthritis
Depression / anxiety / chronic stress

Covered By OHIP*
Emkiro's Lifestyle Medicine Program
pre-screening appointment
is covered by OHIP - so you can get the professional support you need to start living healthier today. Register today and give your body the love it deserves.
Register with our Lifestyle Medicine Program and reach your health goals with expert support from Emkiro.
STEP 1: Book a virtual consultation with Dr. Sheila Lakhoo, MD CCFP, Board Certified Lifestyle Medical Physician (30 minute pre-screening session, covered by OHIP)
STEP 2: Program Registration and Payment
STEP 3: Schedule program starting with a comprehensive, in-person appointment with Dr. Lakhoo (60 minute consultation, covered by OHIP)
Book Your Virtual Discovery Consultation
What is Lifestyle Medicine?
Lifestyle medicine is a holistic, evidence-based therapeutic approach to medicine that's proven to prevent, treat and often reverse disease. Lifestyle medicine practitioners focus on treating the ROOT cause of disease as opposed to treating ONLY its symptoms, which is the key to achieving long lasting health. Lifestyle medicine addresses all aspects of health and wellness including: sleep, nutrition, regular physical activity, stress management, establishing positive social connection and avoidance of risky substances.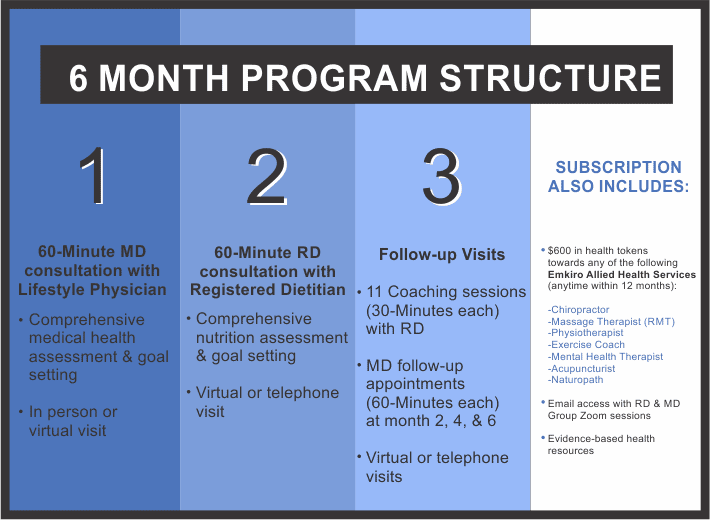 Program cost:  $2,850.00 (Payment Plan is available. Please inquire during your appointment)
Meet Emkiro's Lifestyle Medicine Team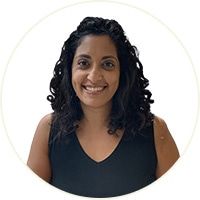 Dr. Sheila Lakhoo
Dr. Lakhoo studied medicine at the University of Alberta and completed her residency training in family medicine at the University of Calgary. She moved to Toronto in 2008 to complete a Master's Degree in Health Sciences in Family and Community Medicine with a concentration in global health at the Dalla Lana School of Public health. In 2010 Dr. Lakhoo started an academic family practice at St. Michael's Hospital. During her 10 years at St. Michael's Hospital she treated many individuals facing poverty, marginalization, significant mental health challenges and addiction.
After recovering from postpartum depression herself, Dr. Lakhoo decided that it was time to change directions in her career as she first hand realized the importance of holistic care and healthier lifestyle choices to help support her own recovery. She recently received her diploma with the American Board of Lifestyle Medicine and is passionate about empowering individuals to reach their optimal health and wellbeing through proven lifestyle changes.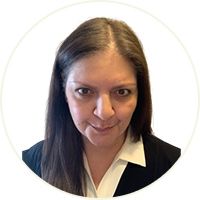 Tammy Fansabedian
Tammy Fansabedian has been a Registered Dietitian since 2005. She completed her undergraduate degree at Ryerson University and subsequent internship at University Health Network in Toronto.
She started her career working clinically for ten years at Princess Margaret Cancer Centre specializing in Head and Neck cancers. After completing her Master's degree in 2015 she transitioned into education where she lectures in the Nutrition and Food program at Ryerson University and manages the Internationally Educated Professionals in Nutrition program within the faculty.
Tammy is passionate about helping people meet their nutrition and health goals. She believes in the principles of Lifestyle Medicine as well as personalized nutrition meaning that there is no one pattern of eating that is suitable for all of our different needs.
Ultimately she believes that the best approach to our diet should be to lead with our health in mind, not solely our weight. In this weight neutral approach, we can find a diet that we can sustain and enjoy for life.
Join Emkiro's Lifestyle Medicine Program
Emkiro's Lifestyle Medicine Program Subscription lasts for 6 months and includes:
A comprehensive health assessment and goal setting session with a Lifestyle Physician (MD) and Registered Dietitian (RD).

Referrals to specialists/testing if needed

30-minute coaching sessions with your RD (personal coach) every 2 weeks for 6 months - Total of 11 sessions

60-minute appointments with your MD at 2 months, 4 months, and 6 months

Regular email communication with your MD and RD (personal coach)

Unlimited access to a library of evidence-based health resources

Regular Facebook Live or Zoom sessions where participants take a deep dive into various health topics, Q&A and peer support

$600 in credit tokens toward any of the following Emkiro health care practitioners identified in the goal-setting exercise: chiropractor (on-site), physiotherapist / exercise coach (on-site or virtual options), massage therapist (on-site), and clinical social work / mental health therapist (virtual), naturopath (virtual).

Appointments for token health services will generate receipts at the time of service for insurance direct billing and reimbursement as applicable.
I've been coming to this clinic since 2017, and I love it. The staff, the practitioners and the entire team are so welcoming, knowledgeable and efficient.

Highly recommend these doctors and the clinic, especially if you live or work in the downtown core.